What's it to be?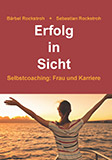 "Erfolg in Sicht" ("Success in Sight") helps women explore and change their work-related behaviour. Whether you are just establishing your career, returning to work after time out for parenthood or striving to climb higher after having already consolidated your position, this book will enable you to build on your strengths while also showing you where it makes sense to learn from your male colleagues.
It answers questions such as "How does patriarchy work? And why is it still an issue?" and explains what men don't tell women and what no career consultant will either  – the unwritten laws of the patriarchal hierarchy and how you can use your feminine intelligence to cope with them.
The book, which is in German, also contains valuable tips for everyday situations that often present difficulties for women. You will acquire new tools that will enable you as a female professional and manager to take your place in the male-dominated world of business and hold your own there.
Bärbel and Sebastian Rockstroh have extensive experience of providing training and coaching to help women climb the career ladder.  By reading this book, you can gain insights into the world of work from the point of view of both genders. The husband-and-wife authors provide a 360-degree perspective that will give you the competence and confidence to establish your own career course and set your sails for success.